Professional Office Movers Serving Denver and the Front Range since 1992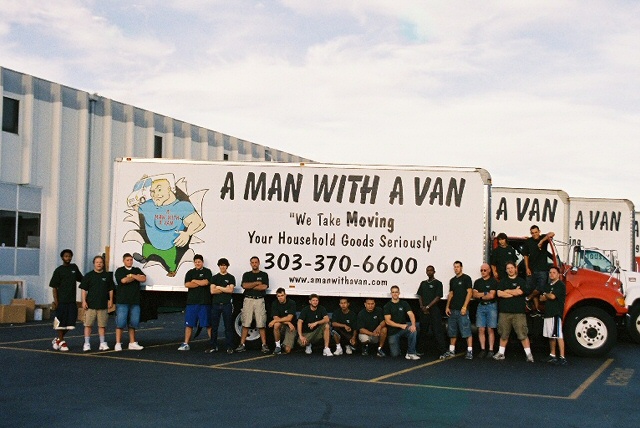 Looking for reliable, professional office movers for your move? You've come to the right place!
Whether you're moving just up one floor, from Boulder to Aurora or you're relocating your entire company across the country, count on A Man With A Van to get the job done right. We've been serving Denver's metro area and beyond with moving services for over 25 years.
Our team of movers is professional and experienced. With over 30,000 moves under our belt, we've earned an A rating from the Better Business Bureau. We've also gained the trust of organizations like the San Francisco 49ers and the U.S. Postal Service. Rest assured, when you hire A Man With A Van, you're hiring the best in the business.
Office Moving Start to Finish
Our start-to-finish approach to moving makes it so you can focus on your business and leave the stress to us. With professional office movers you'll minimize the downtime and stress and be ready to get back to work in your new office.
Logistic Support
When you schedule with A Man With A Van, you get the logistic and moving support you'll need for your commercial move. Our relocation consultants will provide a thorough plan for your move.
This process helps you know what to expect to plan your move and take the guess-work out of the equation. We'll work with your building management to provide certificates of insurance and make sure all building requirements are met. We'll pack, load, unload, and unpack all of your belongings in a careful and efficient manner.
Minimize Downtime
We can handle the packing as well as help you set up your new office. Our movers come prepared with the needed equipment to relocate your office as fast and efficiently as possible. We've grown our truck fleet to specifically to ensure we'll cover your entire move as quickly as possible.
Office Movers Who Move It All!
Whether your business is in a single office space or fills an entire warehouse, we are equipped with the team and equipment to move you where you need to go. We work with companies of all sizes, from small businesses to large corporations.
If the U.S.P.S and San Francisco 49ers can trust us with their commercial moves, so can you!
Office furniture, computers, conference rooms, server racks. We've moved it all. We'll make sure all your equipment arrives safely at your new location giving you the peace of mind needed to keep productivity high.
Storage Options Available
Deadlines and finicky schedules can leave businesses and home owners in a tight situation. This is why we have storage options available. If you need a storage facility for a short- or long-term period, we've got you covered. Our secure and climate-controlled storage site will help take the stress out of moving.
Commercial Movers with a Heart
A Man With A Van is family-owned and operated. No matter the size of your job, we take it to heart. When our movers show up at your office, you can expect courteous and careful professionals who take pride in their work.
Licensed and Insured
We are fully licensed and insured – so count on us to pay attention to the details. We answer our phones 24/7 because if you have a question, we want to be there to help. We even have processes in place for last minute moves. We don't want to see anyone stuck in a pinch!
Efficient Moving at Affordable Pricing
We plan your move to go as smoothly and efficiently as possible. This means we won't pad the billing with extra movers or unnecessary equipment. We offer free moving quotes so you compare us with competition.
When you schedule your move with us, we'll evaluate your situation, determine what is needed to achieve your goals and get you started planning for your relocation.
Local and Cross-country Movers
Whether you're moving across town or cross-country, our movers are prepared to help you from start to finish. Our relocation consultants will give you a plan for your move and information on your new town.
More than a Moving Company
Our philosophy is to go beyond 'just being office movers.' We consider ourselves to be your trusted moving partner. We've helped hundreds of businesses move to and from hundreds of locations, so we know how stressful moving can be.
In addition to assigning you a relocation consultant to help you plan, we'll always be accessible to you on moving day. When our we arrive at your office, you'll meet your team lead and get an overview of the day's plan.
Experience At Your Service
Should you have questions, your single point of contact will make sure the move is done to your satisfaction. Experience has taught us that this approach gives our clients the peace of mind they want so they can focus on other things.
We know what it's like when a client has a last-minute question or change of plan. That's why we have team members operating our phone lines 24 hours a day, 7 days a week. Rest assured, when you hire A Man With a Van Moving Company, you've hired the best office movers in the business.
Search for 'Office Movers Near Me'? – Yep. That's Us!
We're based in metro Denver but we serve all of Colorado with local and out-of-state moves. Our staff is ready for morning-to-night operations or multi-day hauls for your cross-country move. We travel far beyond the Mile-High City every day. Don't be surprised to see our moving trucks cruising along I-25 or in a neighborhood near you.
"A Man With A Van thinks big. These movers have done jobs for an unlikely line-up of clients ranging from the San Francisco 49ers to the U.S. Postal Service. If they can handle those guys, they should be able to move your entertainment center without dropping the ball." -Denver's Westword Weekly Newspaper